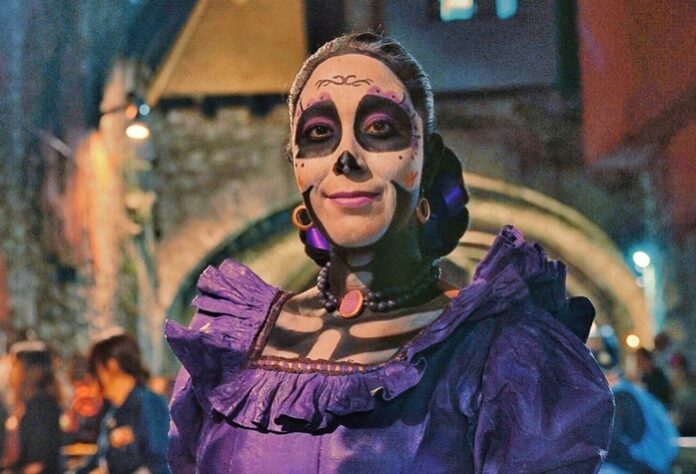 Last year, due to the pandemic, the authorities canceled the third edition of the Day of the Dead Festival. But this 2021 the commemoration will take place and it comes with great surprises.
What used to drive water, today drives cars. And this occasion will be, once again, the amazing and majestic venue to celebrate the Day of the Dead in Guanajuato capital.
The emblematic underground street (Miguel Hidalgo) will host the third edition of the "Tunnel of Tradition", which will take place for a week: from Monday 1 to Sunday 7 November 2021. And for the first time this year, the festival will extend for a week with two additional venues: the Plazuela de San Roque and the Presa de la Olla.
Six days of music, art, horror movies, gastronomy, dance, theater, and competitions will enhance this tradition that distinguishes Mexico: the Day of the Dead. In addition, the program includes parades of skulls, macabre alleys, and the making of rugs.
Guanajuato y Xochimilco
One of the great novelties for this edition of the festival is that there will be two authentic trajineras from Xochimilco sailing in the Presa de la Olla, and that they will be adorned with marigold flowers, candles, papel picado, catrines and catrinas. In addition, there will be wrestling performances in the historic Santa Paula Pantheon.
And behold! The famous and acclaimed mummies will conquer these depths of Guanajuato. The mummified bodies of the Parador Sangre de Cristo will be exhibited in a section of the underground street.
The events
Now write it down: At 9:15 PM on Monday, mariachis Catrines, and Catrinas will sing what they do not make us forget. Also, the northern band will create a pairing of rhythms that, if it were food, we could say that it is like a combination between the roasted carnitas and the mining enchiladas.
In addition, there will be catrina, costume, handicraft, and alfeñique contests, where everyone can participate and demonstrate their skills.
To pay tribute to the seventh art in this celebration, there will be a series of horror film screenings that you can enjoy with popcorn, sodas, and typical sweets. All the activities of the Day of the Dead Festival "A Tunnel of Tradition" will be free.
After having described the most here and here, we leave you the program of activities for this and other events that will take place in the city. The schedules are to be defined.
November 1st
Ofrenda Enrique Ruelas
Videomapping
Concurso de catrinas
November 2nd
Tapete de la Muerte
Concurso de alfeñiques
Callejoneada Macabra
November 3rd
Un túnel de Tradición
Trajineras en Presa de la Olla
Callejoneadas
Videomapping
Bazares en Florencio Antillón
Recorridos en Tranvia
Source: funicular.mx