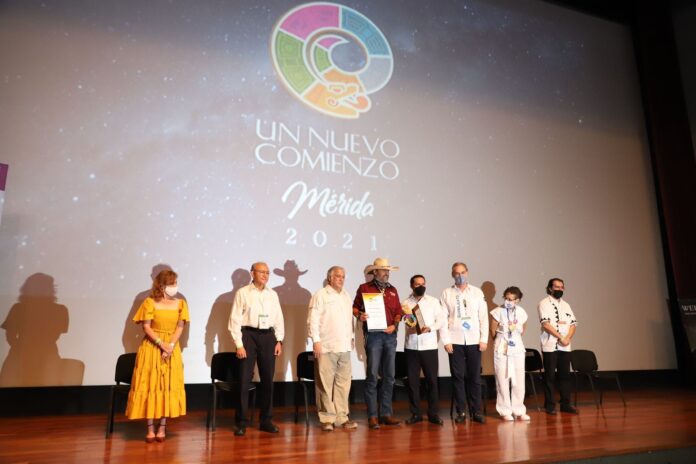 Congratulations to Rodrigo Landeros, from Coyote Canyon Adventures who was recognized today for his Romantic Adventure "Deluxe", in the event of "Recognition of the Diversification of the Mexican Tourism Product 2020 in # TianguisTurísticoMérida
• This year 69 proposals were received and only 7 tourist products were the winners, among them, a Guanajuato product.

• This year, the Tianguis Turístico recognized the following categories: Cultural, Gastronomic, Nature, Meetings, Health, Romance, Cruises, Premium, Social and Sports Tourism.
The "Deluxe Romantic Adventure" experience of the "Coyote Canyon Adventure" Tour Operator obtained the "Recognition for the Diversification of the Mexican Tourist Product 2020" in the Romance category, within the framework of the Digital Tourism Tianguis 2020.

This distinction granted by the Tourist Tianguis is in order to recognize the initiatives that have contributed to the diversification and innovation of the national tourism product and to increase the spending and/or stay of the tourist in the country's tourist destinations.

Rodrigo Landeros, the founder of "Coyote Canyon Adventures", located in San Miguel de Allende, explained that this product offers the visitor a night ride, lodging nights, restaurant reservations for dinner, mariachis, balloon flights, visits to a winery, and hot springs.

The experience provided by Coyote Canyon Adventures – a company that has been operating since 2000 and specializes in offering visitors and tourists experiences in the adventure and ecotourism segment – integrates all these services in order to add the attributes of the value chain and that the economic spill is for more families from San Miguel.

Juan José Álvarez Brunel, Secretary of Tourism of the State of Guanajuato, congratulated Coyote Canyon Adventures and its founder Rodrigo Landeros for the operation of this product as an example of a successful practice that offers a unique experience in San Miguel de Allende, El Corazón de México .

Coyote Canyon Adventures is proud to offer horseback riding tours, archaeological and cultural tours, adventure activities, and unique events for families and private groups.

The Tour Operators that offer adventure, nature, and romance activities go in the state of Guanajuato are accompanied by specialized and certified guides, and implement a health protocol before, during and after each activity.