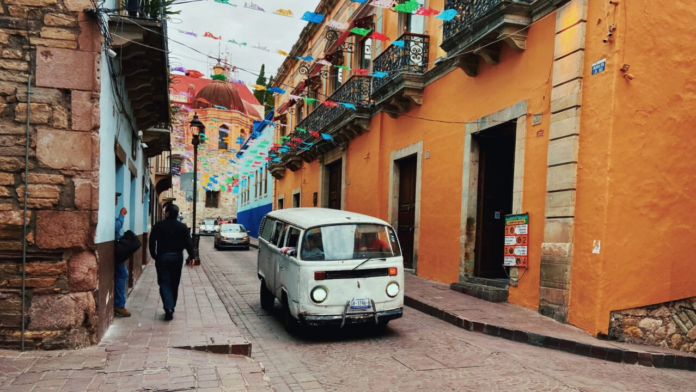 A social project that bets on the qualitative, captivating, popular and unifying
Alonso is undoubtedly one of the most beautiful streets in Guanajuato, with exciting colors and architecture to look at. A way that reaches the heart through the impact of beauty on the senses of our inhabitants and visitors.
Given this diversity of magnificent reasons, the merchants of this emblematic avenue have created the Ruta Corazón project, which aims to pedestrian Alonso for one weekend per month; the first will be next Saturday, July 31, and Sunday, August 1.
This initiative aims to free a certain section of this beautiful colonial-looking street from vehicles and open it to more pedestrian traffic to create more appeal for residents and tourists.
With these factors, the intention is to create the best conditions to enhance the offer of experiences and services that this area has, where you can find everything from a delicious dish, a delicious drink and even buy a good garment.
14 restaurants, 8 bars, 4 hotels, a traditional bakery, and a large number of services such as spa, aesthetics, bookstores, watch shops, clothing stores, and a great many others that consolidate Alonso street as an authentic reference to living and feel Guanajuato.
In the gastronomic field, a wide selection of all the cuisines from here or elsewhere is offered, fresh ingredients cooked with love and passion; portions for all budgets, in a pleasant atmosphere, and with a spectacular setting for you to have a great time.
More than a dozen options to bring great culinary power to your palate. Gastronomy from local chefs and cooks who make recipes that you may have never tried (and those that you have ).
Undoubtedly, the photogenic scenery nurtured by peculiar facades in which the businesses are housed creates an unparalleled perspective, decorated with a series of warm lights that guide you over the pink cobblestone. There is no end to descriptions …
The event
This festival will be held with the motivation to promote the consumption of local products, in addition to mitigating the economic impact as a result of the pandemic. Of course, abiding by all the health measures and protocols that correspond to this time.
As we already mentioned, the first closure and installation will take place next weekend of July 31. 
The cut-off of vehicular traffic will be from the descent to the underground, through the Alexander von Humboldt passage.
The feast begins at 11.00 AM and ends at 23:00 PM. Projected dates are: August 14 and 15, September 18 and 19. October 16 and 17, October 30 and 31, November 13 and 14, December 11 and 12, January 15 and 16.
Finally and ultimately, if you like to eat well and with friends, this immediately will become an option in your monthly gatherings!
Source: funicular.mx